Day 15!
We're half way there!!!  We check in today to see how we're doing.  Remember to measure your progress by how your clothes fit, your energy level, your strength, your inches, and your weight.  The scale is only ONE measurement of your progress.  The number does not define you and don't be surprised if your weight even goes up.  Muscle weighs more than fat.  Keep a pair of pants or a dress you want to fit in to and use that as your gauge.  Remember that we're working on a lifestyle change.  It's a marathon, not a sprint!!!
1) Tuesday- Cardio Day!  Try these if you need ideas.  If you can't get out for a walk, run, jog, or hike, do this workout. Also, try a dance class, Zumba, exercise class, power yoga!  There are many options.  Find one that you love and stick to it:)))
2) Food- Clean Treats by Chocolate Covered Katie!
I love this site!!!  She has the greatest "clean" treat recipes!!! Click here!!!
Hot Fudge Brownie Larabars
Based on this popular recipe.
1 cup walnuts (120 g)
1 and 1/3 cups pitted dates (220 g) (I love SunMaid dates, as they're much softer.)
1 tsp pure vanilla extract
3-4 T cocoa powder (or even Dutch cocoa)
optional: 1/8 plus 1/16 tsp salt (I always add it)
optional: chocolate chips or even a piece of a chocolate bar or baking chocolate
Blend all the ingredients, using a food processor, Magic Bullet, etc. (No need to blend the dates first; I just blend everything all at once in my MB. Form into bars. It might help to put dough in a plastic bag and close the bag, then shape into a bar. (Feel free to experiment with different nut combinations. I often sub almonds or cashews for some of the walnuts.)
Click to see all of my Homemade Larabar Recipes.
These homemade chocolate Larabars actually taste even better than the packaged ones. Homemade always tastes better, right?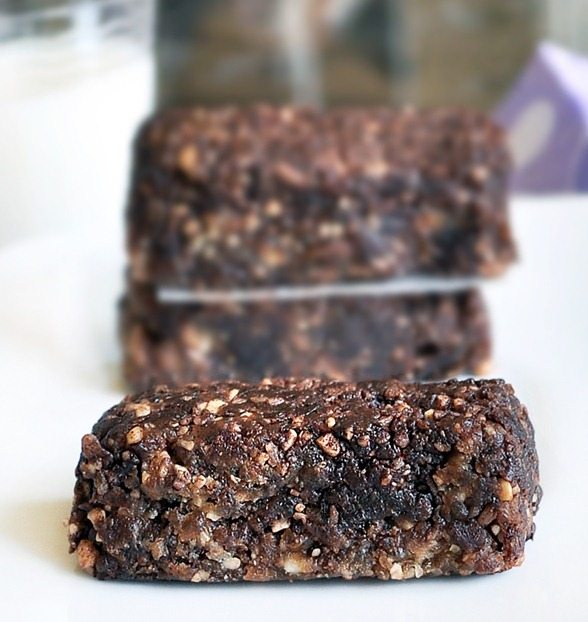 Try it!!!  Tell me what you think:)))
3) Mantra For the Day!!! – What's Important!?!?!
Let's not get so hung up on losing weight and inches that we forget to focus on more important things like our character, hearts, spiritual lives, relationships, etc… Let's get our priorities on straight and focus on what's on the inside.  In coaching many people, I have found that a lot of our weight issues comes from not dealing with our heart issues.  Our weight loss is a by product of dealing with the deeper issues first.  It's OK to dive in and go deep.  Just because you ignore it doesn't mean it will go away.  Let the healing process begin by being honest with yourself and then find some safe people you can trust to help you sort out your issues.  This is one of the best parts of our challenge group is that it totally allows you to be who you are without judgement and condemnation.  We are here to support each other and encourage each other.  What can we help you with today?
Love you guys!  I'm rooting for you:))) XOXO!!!